While the birthplace of Golf happens to be Scotland, this sport has a historic connection with Ireland. The best part about Golf in Ireland is that some of its courses that date back to mid 1800's are still around today! With a Golf tour in Ireland, you will not only be able to enjoy a tryst with golfing history, you will also be able to indulge in the sights and sounds of this beautiful country.
Let's take a peek through some of the best Golf Courses in Ireland!
Royal County Down, Northern Ireland
This club is one of the most exclusive of its kinds in Northern Ireland. Its patrons are some of the most influential people- lawyers, judges, industrialists and doctors from majorly the Belfast region. While there is no waiting list for the club, you have to be aware that the membership can only be availed through invitation!
Ballybunion, County Kerry, Ireland
Situated on the Shannon delta, this semi-private Golf club is considered to be one of the best on the globe! It is regularly featured on the fames Golf Magazine's Top 100 list.
Royal Portrush, Country Antrim, Northern Island
This semi-private Golf club is famed for having hosted the only Open Golf Championship to have ever been held in the country in the year 1951. The historical course held its first-ever tournament in the year 1895.
Lahinch, County Clare, Ireland
What was established by Old Tom Morris in 1894, this golf course was given shape by the master mind of designer Martin Hawtree. By adding bunkers, shaping the fairways and infusing more slope and greens to Lahinch, Martin was able to create a masterpiece! In fact, Phil Mickelson has famously called the Lahinch as one of his favorite links courses.
Portmarnock, Ireland
Situated 12 miles away from the capital city of Dublin- the Portmarnock strategically sprawls across the Howth peninsula. This golf course has hosted more than a dozen Irish Opens!
European Club, Wicklow, Ireland
Situated an hour away from Dublin, the European Club is set amidst the colossal sand dunes along the Irish Sea. It boasts of lean fairways, blind shots as well as a collection of excellent par 4s.
Old Head, Kinsale, Ireland
A visit to the Old Head shall be a pleasant one. Enter in and you will be greeted with a tee time. You will have no problem locating the locker room as someone will always be there to assist you. This special course has expansive vistas to drown yourself in.
Enniscrone, County Sligo, Ireland
Dating back to the year 1918, the original was consequently extended to 18 holes. The golf course underwent another transformation in 2001, when Donald Steel crated myriad of stunning holes amid the dunes which rise to more than 80 feet above the fairways.
When in Ireland, don't forget to miss on the above Golf courses. They are every golf-fanatic's dream come true!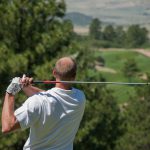 Hello there! If you are an avid golf fan then you would be aware that Ireland is one of the best destinations for golf in the world. Golf, in its modern form, has evolved from a game played in the Kingdom of Fife in Scotland in the fifteenth century.