Going on a golf trip to a foreign country can be an amazing experience, but it is the planning part that needs the most preparation. While things like airport baggage and the weather can be out of your control, you need to ensure that you take care of all the other factors.
To ease the planning process for you, we have made a list of 10 tips that will prove to be extremely helpful for you!
Plan your itinerary properly
Ireland may look like a small country, but you need to make sure that you stay away from the winding roads that make getting to your destination a difficult task. You must ensure to keep some extra time so that if you take a wrong turn, you won't be wasting time finding the right way.
Pick the airport
Is Dublin your choice or would you rather land at Shannon? This choice should be made based on your itinerary. While landing in Dublin will help you play around the city, Shannon, on the other hand, will allow you to start on southwest or northern loop.
Pack for the weather
The freezing temperatures should be kept at bay with layers and layers of clothing. You must not miss to pack a versatile rain suit and gloves for the rainy time.
Always have a backup
This trick works best so you don't run out of things. For example, make sure to keep two pairs of golf shoes and balls. Also, make sure to carry a double copy of your passport.
Exchange the money beforehand
It would be appropriate to exchange currency at your home country to avoid extra costs. While Northern Ireland uses the pound, the Republic of Ireland has the Euro as its official currency.
Save costs by hiring a car
While it always helps to rent a car for self drive, you can always save money by hiring a car with driver. More the number of people, the less you pay!
Banish the jet lag
By the time you land in Ireland, your body would be suffering from a jet lag. Power through the lag and beat it by playing a round of golf.
Don't play every day
With a trip that lasts a week long to 10 days, it may be helpful to keep some time for your rejuvenation between golf. Do check out the sights of Ireland; on alternate days if you wish!
Carry your handicap certificate
While it is not likely that a golf club would request for your handicap certificate, you can still carry it- just in case you may need it.
Caddie for the help
Ireland has amazing people. You can hire a caddie to enjoy the course through long and indulgent conversations.
With those tips, your golf tour in Ireland would be a breezy one! Keep reading for more information on playing Golf in Ireland.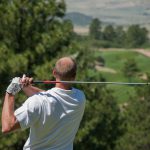 Hello there! If you are an avid golf fan then you would be aware that Ireland is one of the best destinations for golf in the world. Golf, in its modern form, has evolved from a game played in the Kingdom of Fife in Scotland in the fifteenth century.